Table of Contents
Don't make the mistake of thinking you need a bachelor's degree to get a great job in Virginia. Earning a certificate, diploma or associate degree is all that's needed for many quality jobs in the commonwealth's key industries. Health technicians are needed in the life sciences field, CNC workers are employed by manufacturers to program machine tools, and transportation managers oversee distribution from Virginia's port of entry to locations across country.
None of these jobs require a four-year degree, and they are just the tip of the iceberg when it comes to what's available to those with technical training. In northern Virginia, physical therapy assistants, medical assistants and dental laboratory assistants have some of the fastest growing jobs. Or head to the southwest region where EMTs and paramedics, billing clerks and medical secretaries are expected to be in-demand.
While you don't need a bachelor's degree for these positions, you will need some education past high school. For that, head to technical schools in Virginia. Many of the commonwealth's vocational colleges have affordable tuition rates and can have you ready to start a new career in less than two years.
Why is Virginia Good for Vocational Technical Schools?
In recent years, career and technical schools in Virginia have become the preferred choice for many students. People realize that pursuing a career-technical education, also known as CTE, is a smart move. Career schools in Virginia teach practical skills and aren't likely to saddle graduates with crippling student loan debt. There are even online trade schools in Virginia that make it easy for working adults to finish their education.
In 2015, nearly half of all jobs in Virginia required middle skills, according to the National Skills Coalition. Middle skills refers to training beyond high school but less than a bachelor's degree. While demand for middle skills jobs is expected to remain steady in the years to come, only 39% of the state's residents are qualified for them. That means graduates from vocational schools in Virginia may find they have plenty of employment opportunities, depending on their field of study.
Highest-Paying and Fastest-Growing Careers in Virginia
Source: 2019 Occupational Employment Statistics and 2018-28 Employment Projections, Bureau of Labor Statistics, BLS.gov.
Financial Aid for Vocational Students in Virginia
The best vocational schools in Virginia have more going for them than great degree, diploma and certificate programs. They also charge significantly less than other schools in the commonwealth.
Consider this: the total cost for a school within the Virginia Community College System was $4,620 in 2017-2018, according to the State Council of Higher Education for Virginia. If you went to the College of William and Mary, you would have spent $23,400 in tuition alone and then another $12,236 for room and board. Even at Virginia State University -- the cheapest of the commonwealth's public universities -- you'd pay $20,264 for tuition and room and board.
There is, of course, financial aid in Virginia, and this money can be used at both four-year and two-year schools. For 2019, the commonwealth earmarked more than $99 million of its general fund for the State Council of Higher Education for Virginia. That money includes a significant amount for Virginia grants and other aid.
To apply for Virginia grants for college as well as some scholarships and loans, you need to fill out the Free Application for Federal Student Aid (FAFSA). We have more information about how to apply for financial aid in Virginia in our financial aid guide.
Once you submit your FAFSA, you could be in line for the following
Virginia Guaranteed Assistance Program: Many people wonder: what is VGAP grant? Virginia offers these grants to residents who are enrolled full-time in a public two-year or four-year school. Recipients must have demonstrated financial need, and the award amount varies depending on someone's situation. However, it can be as much as the full cost of tuition, fees and books.
Virginia Commonwealth Award: Similar to the VGAP, the Virginia Commonwealth Award provides assistance to residents enrolled in public universities, colleges and career schools in Virginia. However, you don't have to be enrolled full-time. Half-time students can also receive awards, which are based on financial need.
New Economy Workforce Credential Grant: To promote CTE certification, Virginia offers these grants which will cover up to two-thirds of the cost of an eligible training program. Applications are processed through participating institutions.
Initiatives for Students in Virginia Trade Schools
Career-technical education is supported in many ways within Virginia. Here's a closer look at what that means.
Funding for vocational students in Virginia
High school students can access the best vocational schools in Virginia early thanks to dual enrollmentprograms. These allow high school juniors and seniors to earn college credit prior to graduation. Depending on the school district, dual enrollment classes may be offered free of charge. When a fee is assessed, it is often much less than the normal tuition rate.
The children and spouses of military members killed in the line of duty or 90-100% permanently disabled as a result of military operations can apply for the Virginia Military Survivors and Dependents Education Program. It waives the cost of tuition and fees at public Virginia colleges and universities and provides an annual stipend of up to $1,900.
Virginia policies that benefit vocational students
Students who decide to continue their education at a four-year school may find that easy to do thanks to Guaranteed Admissions Agreements. These guarantee that anyone who graduates with an associate degree from one of Virginia's 23 community colleges will receive admission to 30 commonwealth colleges and universities, so long as they meet minimum GPA requirements.
Offered at a handful of community colleges around the state, Middle College is a unique program designed to meet the needs of 18 to 24-year olds who didn't finish high school. It allows these students to earn a GED while also completing workforce readiness training or community college classes.
School-specific program initiatives in Virginia
The Career and Technical Education Center in Hampton has been providing CTE training for more than 40 years. Students from 21 area high schools spend half their day at the center to get training for industry certifications or to prepare for college.
The statewide Get Skilled, Get a Job, Give Back Initiative (G3) has led to innovative programs at a number of schools. For instance, Thomas Nelson is using its grant money to expand programs and create career pathways in ten different disciplines. At Central Virginia Community College, G3 funds will be used to develop a Career and Technical Education Academy that will serve dual enrollment students, unemployed adults and others.
Expert Advice on Vocational Schools in Virginia
To learn more about the role of vocational education in Virginia's job market, we sat down with Jerry Stewart, Workforce Development Coordinator for the Virginia Beach Department of Economic Development. He has 28 years of experience in workforce development and is currently the chair of the Virginia Beach City Public Schools General Advisory Council for Career and Technical Education.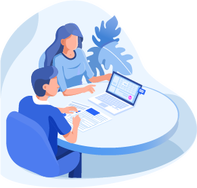 What are the benefits of career and technical education?
Career and Technical Education programs provide skill sets and knowledge opportunities for all students, whether they are considering careers after graduation, pursuing higher education or seeking a combination of both. If the student's interest is going directly into the workforce, the industry certifications available with Career and Technical Education program provide verification of the skills applicable to the employer. CTE programs also offer the students opportunities to explore multiple career pathways of interest.
How does CTE support workforce and economic development in Virginia?
CTE is a vital partner in the success of workforce and economic development across the country. In Virginia Beach, several of our high-performance manufacturers need highly skilled employees to work in their advanced manufacturing facilities. CTE, and often times, post-secondary training, prepare graduates to go directly into these businesses with industry recognized certifications. With the expansion of dual enrollment at the secondary level, many high school graduates will have several credit hours upon graduation. CTE, along with their economic development partners, can increase the awareness of the availability of high paying jobs in the many different technical fields
Are there any CTE career clusters more in-demand than others in the state?
Manufacturing skills appear to be in demand in many parts of the United States. The integration of even more Computer Numeric Control (CNC) machines in manufacturing facilities is driving the demand for higher skills. In Virginia Beach, new clusters identified by economic development and implemented with CTE programming, include entrepreneurship and cyber security.
In Virginia, how do employers view individuals with CTE or trade education?
CTE graduates are in high demand, particularly students with industry certifications. Employers are confident with the skills of these potential employees. Virginia Beach City Public Schools' students obtained over 10,000 industry recognized certifications for the 2014-2015 year, and Economic Development markets this information to existing and new business prospects.
Are career fields that require CTE training expected to grow?
As a result of my involvement in workforce development, CTE at the local level, and CTE at the state level, I agree with the projections for education required for future jobs. I suspect that past 2020, even a higher percentage of jobs will require some postsecondary education. I believe CTE training will continue to grow because quality CTE programs have the ability to quickly adapt and change to different training/skill needs in a business community. Strong CTE and economic/workforce development partnerships facilitate this because economic development can inform CTE administrators of the needs of their business community.
Do you have any advice for new CTE students?
Explore the CTE programs offered at your school. If you are uncertain of your career aspirations or plans for higher education, CTE can prepare you with skills that get you a high paying job that will allow you time to explore potential careers prior incurring substantial college debt. Additionally, if you are certain that the four-year college track is your aspiration; many CTE programs can better prepare you to be successful in college/university. Industry credentials have also been proven to better prepare you for the college experience, often times even opening up part-time job opportunities while attending college.
Resources for Vocational School Students in Virginia
There are plenty of resources available to help you learn more about vocational education and skilled jobs in Virginia:
Browse Cities in Virginia
Source: Integrated Postsecondary Education Data System (IPEDS) 2018-19, National Center for Education Statistics, http://nces.ed.gov/ipeds/