Table of Contents
What Does a Paralegal Do?
You don't need to be an attorney to have a career in law. You could be a paralegal instead. Paralegals assist lawyers with a variety of tasks, and the legal system wouldn't run as smoothly without them. A paralegal school can prepare you to do the following:
Research laws and regulations relating to pending cases.
Gather facts and evidence for upcoming cases
Draft letters, memos, reports and legal documents.
Assist attorneys during trials or hearings.
Paralegal Specializations
Just as lawyers often practice in a specific area of law, so too can paralegals. For example, here are two common specializations:
Corporate Paralegals focus mainly on corporate activities such as employee contracts, shareholder agreements and financial reports. They also ensure a corporation remains in compliance with the law.
Litigation Paralegals perform a wide range of tasks that pertain to litigation and trials. They may collect evidence, prepare reports and perform administrative tasks.
However, these aren't your only options. Paralegal programs provide general skills that can be used across a variety of legal specializations including personal injury, intellectual property, bankruptcy, immigration and more.
How to Become a Paralegal
Becoming a paralegal might involve taking the following steps, though of course keep in mind that educational and career paths can vary:
Earn a high school diploma or equivalent.
Enroll in a certificate or degree progam. Some choose to start with an associate degree, some choose to jump right into a bachelor's program.
Look for certification opportunities, even if they are not required by your state or employer, as they may give you leg up against the competition. 
Apply to work as a paralegal. You might find places to work include corporatations, law firms, indivudual law practices, and more. 
If you want to become a paralegal, you'll need to learn about the following subjects, among others:
Legal research
Computer applications
Tort law
Legal practice management
While some employers may provide on the job training, most prefer students who have a formal education in paralegal studies. Keep reading to learn how you can go about getting that.
Paralegal Degree Programs
You can find both traditional and online paralegal programs at schools across the country. They usually result in one of the following:
Associate degree: Many paralegals have associate degrees in paralegal studies. Completed in two years, these degrees are offered by paralegal vocational schools, paralegal technical schools and community colleges.
Certificate: There are also certificates available in paralegal studies. Many times, these programs are designed to provide paralegal skills to someone who already has a degree or college credit in another field. However, some programs also accept students with no prior higher education. You can find paralegal certificate programs online or at many of the same schools that offer associate degrees.
Bachelor's degree: Some employers prefer to hire those with a four-year degree, but it's not necessary for many paralegal jobs.
Paralegal Schools - Online and On-Campus
Schools with paralegal programs may offer several learning options. In addition to traditional campus-based programs, there are a number of online paralegal programs available.
If you plan to be a distance learner, look for accredited online paralegal certificate programs and degree programs. Paralegal programs approved by the American Bar Association may be preferred by some employers.
Certification for Paralegals
There are no state licensing requirements for paralegals, but you can earn professional credentials in the field. Here are a few of the designations currently available:
CORE Registered Paralegal (CPR): Offered by the National Federation of Paralegal Associations (NFPA), this designation demonstrates you have the proper education and expertise to provide paralegal services in a variety of settings.
Registered Paralegal (RP): Also offered by the NFPA, the Registered Paralegal designation is available to those who have comprehensive education as well as experience working in the field.
Certified Paralegal (CP): Offered by the National Association of Legal Assistants (NALA) and recognized by the American Bar Association, the CP designation is intended to represent a paralegal has achieved a high level of expertise.
Advanced Certified Paralegal (ACP): The ACP credential is offered by NALA to identify Certified Paralegals who have committed to continuing their education.
While certification requirements vary, most programs require you have a certain level of education and pass a certification exam.
Career Advancement for Paralegals
Paralegals may naturally move into more advanced roles as they gain experience in the workforce. Earning a voluntary certification or taking additional classes at paralegal vocational schools may also provide additional employment opportunities.
Skills and Qualities for Paralegals
Schools with paralegal programs can teach you the book knowledge needed to work in this field. However, your success may also depend upon your ability to cultivate the following personal skills and qualities.
Active listening: Paralegals need to be able to listen carefully and ask appropriate questions in order to understand attorney and client requests.
Critical thinking: Attorneys rely on paralegals and legal assistants to work independently. That means it's important to be able to problem-solve on your own.
Writing: Paralegals are responsible for drafting all sorts of documents, and the ability to write clearly, concisely and correctly is essential to their job.
Written comprehension: In addition to writing documents, paralegals also spend a significant time reading. They must be able to comprehend information even when written in complex language.
Near vision: Good vision is necessary since paralegals spend most of their time working on a computer, writing or reading.
Source: Integrated Postsecondary Education Data System (IPEDS) 2018-19, National Center for Education Statistics, http://nces.ed.gov/ipeds/
Paralegal Salary and Career Outlook
Paralegal schools and online paralegal programs offer the opportunity to start a new career in two years or less. After graduation, your income and job prospects may depend upon your specialization, where you live and whether you've obtained a voluntary certification. Those with experience often command higher incomes than those who are have only recently graduated from paralegal technical schools.
The following table represents the range of incomes found nationwide for paralegals and legal assistants, according to government data. If you're looking for job growth information, we've got that too:
| Career | Total Employment | Average Salary | Projected Job Growth |
| --- | --- | --- | --- |
| Paralegals and Legal Assistants | 329,870 | $55,020 | 12% |
*2019 Occupational Employment Statistics and 2018-28 Employment Projections, Bureau of Labor Statistics, BLS.gov.
Professional Resources for Paralegals
There are several membership organizations that represent paralegals and work to advance to the profession. Here are a couple you should know:
Expert Q&A on Paralegal Vocational Schools
Paralegals typically earn a degree in legal studies, but it's also common for individuals from other majors/backgrounds to enter the field as well. To learn more about what to expect from your education if you're thinking about becoming a paralegal, we spoke with Monica Carter. She's the senior paralegal at Vethan Law Firm in Texas, and will answer questions about the career path to becoming a paralegal.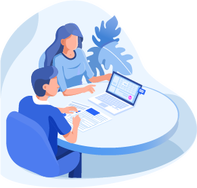 What is the typical educational path needed to become a paralegal?
Schools all across the county are developing paralegal certificate programs which are usually a 6-9 month course. There are other available options for those who would like to have a degree for their schooling, [including] associates and bachelors degree programs at colleges and universities. I obtained my Bachelors in Paralegal Studies from American Public University, while in the United States Army. After receiving my degree, I continued my educational path by testing and becoming certified with the National Association of Legal Assistants (NALA).
How long does it typically take to complete education for this job?
While some programs can provide you with a certificate in a short amount of time, degrees require years of dedication and provide you with a far greater amount of knowledge -- to obtain a bachelor's degree it can take 4-5 years. To be eligible to test for NALA certification, you would have to complete a paralegal program over 60 hours, a bachelors in any field plus one year paralegal experience, or a high school diploma and 7 years experience as a paralegal plus 20 hours of Continuing Legal Education (CLE). I was fortunate to obtain a job while in college as a paralegal and after 10 years of being a paralegal, being a military paralegal, being a military court reporter, and completing my bachelors in Paralegal Studies I then became certified by NALA. My skills stand out in a crowd because I have an office administrator background, knowledge of client billing, family law, civil litigation, trial experience, military justice experience, and court reporting and exhibit experience combined with my ability to multitask, plan, organize and manage, but those were not just developed yesterday. They grew over time.
Why would you encourage someone to pursue a career as a paralegal?
I would encourage individuals who have strong research skills, who want to learn and continue to grow, and who are interested in the legal field to pursue a career as a paralegal. Being able to multitask is an extremely useful skill to have as well as knowledge of software and programs. The advantages are numerous. I am always learning new skills or laws, [or] creating new documents. Most federal holidays the office will be closed, and I enjoy traveling and since the Vethan Law Firm has clients all across the country and offices in two states, I am able to travel often. My favorite advantage to being a civil litigation paralegal is preparing for and attending trials, managing the exhibits and getting to know more about each of the clients. The disadvantages are that if there is a trial near a federal holiday, you may have less time off than you hoped for. I love to do trial and deposition prep and so much more can be accomplished on the weekends and when you are out of the office.
Do you have any advice for young people who are just starting out in this career?
I would tell them to get as much education as they can. If you start with a certificate program, be sure it will go towards an associate's degree, and the same for a bachelor's. Education is not only useful, but it shows that you are dedicated and have follow through. Take the time to be certified, market your certification to prospective employers and keep increasing your knowledge. If you don't know something, use your resources and ask questions.