Table of Contents
Construction worker jobs involve more than simply swinging a hammer or pouring concrete. Professionals in the field are employed in a variety of roles that require specialized skills and knowledge. Depending on the specific occupation, a construction worker job description may include any of the following:
Reading blueprints to construct building frames.
Preparing construction sites and supplies.
Installing drywall, cabinets, windows, flooring and other trim features.
Supervising a team of builders and tradesmen on a job site.
Inspecting work to ensure it meets quality standards and local building codes.
The combination of a large percentage of the existing labor force reaching the age of retirement and the surge in development projects around the country means that the demand for new talent is high" Read the full interview with Caitlyn Roddy from Watchdog Real Estate Project Managers.
Construction Specializations
There are numerous construction worker jobs within the industry. While some people provide general labor on residential, commercial or road projects, others specialize in one of the following occupations:
Carpenters construct and repair structures made out of wood. They may specialize in framing buildings, installing trim features or creating rough, temporary structures such as scaffolding.
Masonry workers work exclusively with bricks, concrete blocks, stones and similar building materials.
Construction equipment operators use heavy machinery to construct buildings, roads and other infrastructure.
Construction and building inspectors approve building plans, inspect finished projects and ensure construction meets government standards.
How to Become a Construction Worker
Most construction jobs don't require a formal education, but you will need training for many positions. There are several different ways to get the skills needed for a career in construction. Consider the following steps to become a construction worker:
Earn High School Diploma or Equivalent: Take it further when in school by looking into high school courses specifically targeting the skilled trades.
Training: Consider postsecondary training or an associate degree program in a construction field. They may not be required for employment, but could put you above some competition.
Apply for Job/Apprenticeship: Apply for entry-level construction positions, or consider hands-on training by applying for an apprenticeship.
Read more for detail on those steps to becoming a construction worker.
Construction Worker Education Requirements
Construction workers may have one of the following levels of formal education:
High school Diploma: Employers typically prefer to hire those with at least a high school diploma or GED. Some high schools have technical programs specifically designed for those planning a career in the skilled trades.
Postsecondary Training: Community colleges and technical schools may have short-term programs available to teach the basic skills required by construction worker jobs.
Associate Degree: Although not needed for many positions, some schools offer associate degrees in construction fields. These typically take two years to complete and may be pursued by those interested in advanced work, supervisory roles or a higher construction worker salary.
You can find construction training programs through many vocational schools, community colleges and technical schools. However, not surprisingly, you won't find many online construction schools. This is a career which benefits from hands-on instruction.
Construction Worker Training
Construction workers don't need to spend much time in a classroom to learn their job. Instead, they learn the trade through on-the-job training or apprenticeships.
Contractors may pair a new hire with an experienced worker to provide on-the-job training. There are also apprenticeships available through groups such as the Laborers' International Union of North America and Home Builders International.
Apprenticeship programs can run as long as two to four years and include both technical instruction and paid, on-the-job training.
Certified Construction Worker
Certification and licensure for construction worker jobs vary depending on a person's occupation. Some states may require certified construction workers for certain tasks such as operating heavy machinery. Building inspectors also must typically be licensed by their state or local government.
Beyond required government licenses, there are several voluntary certifications for construction occupations. These may not be required but could impact construction worker salary. Those with professional credentials may be in a better position to negotiate higher wages. The following are a few of the professional certifications available and their sponsoring organization:
Certified Lead Carpenter from the National Association of the Remodeling Industry
Masonry Certification from the Mason Contractors Association of America
Associate Constructor from the American Institute of Constructors
Concrete Flatwork Finisher and Technician from the American Concrete Institute
Certification requirement vary for each organization. Some may have you take online courses. Others are looking for a specific work or education background and may require applicants to take an exam.
Construction Career Advancement
Construction workers have several ways to advance their career. With experience, they could be promoted to supervisory roles. Or they may decide to specialize in a specific construction specialty such as carpentry or masonry. The salary of construction worker specialists may be higher than that of general laborers.
Another way to advance your construction career is to return to school for additional education. As associate degree or a bachelor's degree in construction management could open the door for greater work opportunities and a higher construction worker salary.
Source: Integrated Postsecondary Education Data System (IPEDS) 2018-19, National Center for Education Statistics, http://nces.ed.gov/ipeds/
Financial Aid for Construction Training Programs
NAWIC Founders' Scholarship
Criteria :
Selection is based upon applicant's grades, extracurricular activities, employment experience, interest in construction, evaluations, and financial need.
28-Feb
Application deadline
Associated Builders and Contractors Scholarship
Criteria :
Applicant must have successfully completed at least one year of schooling in an associate or baccalaureate degree program in construction (other than a design ...
1-Jun
Application deadline
Criteria :
Applicant must be a Maine resident who is entering or currently enrolled in an undergraduate, construction-related field of study at an accredited Maine post-secondary ...
31-Mar
Application deadline
Frank W. Reed Scholarship
Criteria :
Applicant must be a Florida resident, be enrolled in final year of program, and demonstrate academic achievement and financial need.
15-Mar
Application deadline
C.G. Chase Construction Minority Scholarship
Criteria :
Applicant must be a minority student from Dade County, Fla., and want to return to Dade County to work. Selection is based upon financial ...
15-Mar
Application deadline
James A. Cummings Scholarship
Criteria :
Applicant must be from Broward, Dade, or Palm Beach County, have a minimum 2.75 GPA, and demonstrate written communication ability. Preference is given to Broward ...
15-Mar
Application deadline
Professional Construction Estimators Association of America (PCEAA) Scholarship
16-Jan
Application deadline
Ruth E. Black Scholarship
Criteria :
Applicant must be at least a part-time student, and be a resident of Hawaii. . Selection is based upon a minimum 3.0 GPA, and financial need. ...
5-Jan
Application deadline
Patricia Collins Amaral Memorial Fund
Criteria :
Applicant must be a senior who has a minimum 3.0 GPA and who has demonstrated the finest qualities of leadership through participation in campus organizations ...
15-Feb
Application deadline
Plan NH Scholarship and Fellowship Program
Criteria :
Applicants must be residents of New Hampshire and be pursuing a degree in or related to: architecture, landscape architecture, studio art, engineering, interior design, ...
12-Apr
Application deadline
Source: Scholarship directory data is copyrighted material which is reproduced on this website by permission of CollegeXpress, a division of Carnegie Dartlet. Copyright © 2023 by CollegeXpress.
Skills and Qualities for Construction Workers
A construction worker job description often includes performing a number of different tasks in a variety of settings. Those who are successful in the field often have the following skills and abilities:
Active listening to understand directions and ask appropriate questions before beginning a task.
Manual dexterity to grasp and use construction tools and supplies.
Static strength to lift, hold, push and carry lumber and other heavy construction materials.
Monitoring to keep track of work progress and make adjustments as needed.
Construction Worker Salary and Career Outlook
If you're wondering how much do construction workers make, the answer is that it depends upon their specialization and geographic location. The following table shows the average construction worker salary you might expect across the country:
| Career | Total Employment | Average Salary | Projected Job Growth |
| --- | --- | --- | --- |
| Construction Laborers | 1,020,350 | $41,730 | 10.5% |
| First-Line Supervisors of Construction Trades and Extraction Workers | 626,180 | $71,440 | 10.4% |
| Construction Managers | 293,380 | $105,000 | 9.8% |
| Operating Engineers and Other Construction Equipment Operators | 405,750 | $54,210 | 9.6% |
| Construction and Building Inspectors | 110,420 | $64,390 | 6.6% |
| Painters, Construction and Maintenance | 232,760 | $44,640 | 6% |
*2019 Occupational Employment Statistics and 2018-28 Employment Projections, Bureau of Labor Statistics, BLS.gov.
Professional Resources for Construction Workers
If you want to learn more about how to become a construction worker, you may want to visit the following resources:
Related Programs
Expert Advice for Students in Construction Training
To find out more about what it takes to become a construction worker, and to get expert advice about the industry, we spoke with Caitlyn Roddy, who's been in the construction and real estate industry for five years. Though she fell into the industry by chance, she has fallen in love with it and all of the opportunity available, especially at her company Watchdog Real Estate Project Managers.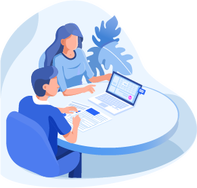 Why would you encourage someone to pursue a career in construction?
If you enjoy this type of work, the field can be incredibly rewarding as you get to have a hands-on experience in building something new. The work can be physically demanding, depending on the field. Hours are fairly standard across the industry: 7 a.m.-3 p.m. Night and weekend work is often required, depending on the project, but can be quite lucrative when overtime is necessary. For me, being able to be a resource to our clients is very rewarding. Real estate and construction are complicated fields that many people do not have experience in, so experts in both fields are very much in demand.
Do you have any advice for young people who are just starting out in this career?
It is a great time to get started in the construction industry, especially for women. The combination of a large percentage of the existing labor force reaching the age of retirement and the surge in development projects around the country means that the demand for new talent is high. I am thrilled to see that there is an increased focus on hiring women for construction work. However, this is a great time to get started in the industry for anyone who has new talent to offer.
What are the different job expectations for the field?
Job expectations are as varied as the type of jobs in the industry. In my role, I manage real estate and construction projects from concept to completion. This involves coordination of all vendors, consultants, project team members, etc., all to ensure that projects are delivered on time and within budget. I am available at all times for our clients to answer any and all questions, to provide solutions to problems of all nature and to anticipate potential issues that might cause a delay or a snag in the project.
However, job expectations really depend on the type of work you are doing and the client for which you are working. When construction timelines are short, expectations can be very high.