Carpenters are a vital part of modern life, although most people never see them in action. Carpenters plan and construct the wooden frames that keep houses and other low-rise buildings standing tall, as well as finishing many of the interior touches that we expect from a modern house.
Here's a short list of responsibilities common across a wide percentage of carpentry jobs:
Reading blueprints and constructing wooden frames for houses and other structures
Measuring and cutting wall studs, support beams, door frames and more
Installing windows, molding, sub-flooring and certain interior and exterior fixtures
Inspecting, repairing or replacing damaged beams and other framework elements
How to Become a Carpenter
As well as steady hands and technical know-how, carpenters need basic applied math skills and strong knowledge of work safety guidelines. Here's a short list of steps that you can take on your path to a carpentry career:
Finish high school or earn an equivalency degree. Most employers require candidates for carpentry jobs to have a high school education. Taking courses in math, mechanical drawing and general vocational skills during your high school work can prepare you to excel in professional training programs.
Enroll in a carpentry training program at the college level. Some employers will hire entry-level workers without any carpentry training, but a degree or certificate in carpentry can boost your chances of employment.
Find an apprenticeship, internship or other on-the-job training. Some carpentry training programs include a pathway to learning from experienced carpenters on real job sites, and some employers offer hands-on training to new employees.
Individual carpentry schools set their own coursework requirements for students, but there is a list of subjects that many carpentry programs have in common:
Math for carpenters
Principles of house construction
Framing
Wall, floor, window and roof framing
Building codes
Hand tools and power tools
Interior and exterior finishing
Mechanical drafting
Carpentry degree and certificate programs
When seeking training in carpentry, trade school and community college programs are likely to differ from those offered at four-year universities. Here's a list of the most common types of carpentry programs commonly available in four semesters or less:
Undergraduate certificate. Certificate programs are typically the fastest route to carpentry training. Some certificates may require six months or less of college work, while others take around one year to complete.
Technical diploma. Carpentry diploma programs usually last for anywhere from one to two years of full-time study and feature a comprehensive list of skills courses. Programs with longer times to graduation tend to provide more thorough training.
Associate degree. Carpentry programs at the associate level aim to provide the same in-depth training as diploma plans and include an array of general education courses to round out your education. Associate degree programs may also include training in construction management.
Four-year bachelor's degrees are also available for aspiring carpenters, but workforce-bound students may want to consider one of the shorter plans. Bachelor's degrees tend to focus on the management side of the profession and are rarely required to get a job in carpentry or construction.
Hands-on training for carpenters
All reputable programs for carpenters provide some form of hands-on training, whether it's during class time at a trade school or, for online students, through an affiliated local facility. Employers may also offer hands-on learning for new hires, especially if their work makes use of carpentry specializations not commonly taught in general carpentry training programs.
Apprenticeships are another form of hands-on training that may be available in your area. Several community and technical colleges around the country offer apprenticeship programs alongside their more traditional study plans, and some states work directly with employers to fund apprenticeships for high-demand careers.
Online carpentry programs
Carpentry is a hands-on profession, naturally, but some carpentry schools aim to make it easier for busy students to get trained by offering online carpentry programs. Education in subjects like applied math and mechanical drafting translates fairly well to the virtual classroom environment, while practical lessons can be completed at approved local facilities or job sites.
It's important to note that online carpentry programs are not the "easy A" alternative to traditional training at a brick-and-mortar carpentry school. Without regular meetings to provide a deadline structure, online students need to be extra motivated to ensure that they're keeping up with coursework.
Carpentry certifications
Entry-level carpenters typically don't need any type of certification to be hired on, but certain credentials can help demonstrate your skills and commitment to potential employers. Certification training may be available through your college or trade school, and industry groups like the National Center for Construction Education and Research (NCCER) offer independent certification training for working professionals.
Groups focusing on sustainability in construction fields may also offer their own certifications in certain areas of the country. Check with your local green building council or other sustainability organization to see if there are any options near you.
Career advancement for carpenters
Many carpenters advance in their careers by gaining years of experience in their profession and taking on additional responsibilities as they become experts. Continued education can help with career advancement, as well -- an associate or bachelor's degree in construction management can help you train to supervise teams of carpenters or administrate the financial aspects of a project.
Best Colleges for Carpentry Degree Programs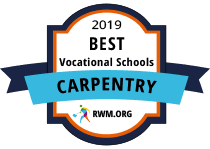 You'll find carpentry degree programs at numerous colleges and universities nationwide. To help narrow down the choices, we've analyzed schools using a methodology that considers program size, support services, schedule flexibility, tuition costs and more. Once the numbers were crunched, the following ten institutions emerged as the best U.S. schools for carpentry degree programs.
Average In-state Tuition
$2,136
% of Students in Distance Education
60%
Atlanta Technical College awarded the largest number of construction degrees and certificates out of all ten schools that made our list. It also features one of the lowest average net price figures in the U.S., meaning that the cost of tuition, fees, books, housing, transportation and other essentials is often offset by financial aid awards from grant and scholarship programs.
Carpentry programs at ATC: A three-semester carpentry diploma is available at ATC, teaching students a combination of carpentry theory and practical skills that can train you in both commercial and residential carpentry. Single-semester technical certificate programs in commercial carpentry, framing and certified construction work can be earned here as well.
Average In-state Tuition
$2,136
% of Students in Distance Education
67%
If affordability is your main concern, Albany Technical College might be worth a second look. This southwestern Georgia school posted the lowest average net price of any of the more than 130 schools we surveyed, charging students roughly $620 for the year in 2018-19. ATC also reported one of our list's largest percentages of online learners among its student body.
Carpentry programs at Albany Tech: The carpentry training programs at Albany Tech are accredited by the National Council for Construction Education and Research (NCCER) and offer two levels of instruction. Students hoping for a comprehensive education can enroll in the 42-credit diploma program, and those looking to pick up a set of basic carpentry skills can earn a carpentry fundamentals certificate.
Average In-state Tuition
$2,136
% of Students in Distance Education
45%
Only one other school on our list posted a lower average net price than Central Georgia Technical College, an Atlanta-area school that educates roughly 8,200 students each semester. Around 45 percent of the student body takes at least one of their courses in an online format, and the ratio of 14 students to each faculty member suggests that professors will have time to help students one-on-one if they need it.
Carpentry programs at CGTC: Associate degree programs tend to provide the most comprehensive carpentry training, and CGTC offers a carpentry associate degree that includes opportunities to study business, management, drafting, cabinetry and more. A diploma program and four certificates are available for students who want to take a slightly quicker route to the workforce.
Average In-state Tuition
$7,800
% of Students in Distance Education
1%
Thaddeus Stevens College of Technology stood out on multiple metrics of student success in our analysis. It had the best graduation rate among colleges on our list, for example, and its retention rate tied for the No. 1 spot among our top carpentry schools. Stevens also reported that more than 91 percent of graduates remained employed six years after leaving school, one of the ten best such numbers in the entire country.
Carpentry programs at Stevens: The carpentry technology program at Stevens takes the form of an associate degree plan and requires at least 70 credits to complete. It teaches a comprehensive list of skills, including roof framing, floor construction, thermal insulation, geometry, drywall installation, interior finishing and residential remodeling.
Average In-state Tuition
$1,824
% of Students in Distance Education
63%
The numbers suggest that the student experience is a high priority at Pamlico Community College. Only two other schools on our list reported a larger percentage of students attending online courses -- nearly 63 percent of those enrolled took at least some distance education credits -- and the intimate learning environment features a list-leading student-faculty ratio of 9:1.
Carpentry programs at PCC: Students here can learn the basics of carpentry in an introductory program, studying measurement and layout, site preparation, framing, work safety and the use of hand and power tools. If you want to take your building knowledge further, a cabinetmaking program can teach you how to select the right materials for interior woodwork and install your finished cabinets.
Average In-state Tuition
$3,888
% of Students in Distance Education
45%
Southeast Kentucky Community and Technical College reported the lowest average net price of any school outside of Georgia to make our top ten. This medium-small institution in Cumberland educates around 3,300 students each term and offers an even further reduction in net price for students whose family income is less than $48,000 per year.
Carpentry programs at SKCTC: This Kentucky trade school offers carpentry training a la carte, offering ten specific skills certificates in areas like basic carpentry, site layout, drywall, acoustical carpentry and more. Two comprehensive programs are available as well: a construction carpentry diploma and a construction technology program that lasts for two years of full-time study and leads to an associate degree.
Average In-state Tuition
$3,888
% of Students in Distance Education
68%
This Kentucky school was one of the top three carpentry schools in the country for students seeking distance education courses, reporting that more than 68 percent of its 5,800-strong student body takes advantage of the virtual classroom. Somerset Community College also offers around a dozen student clubs and activities to help keep you engaged when you're not attending class or studying.
Carpentry programs at SSC: A wide range of different skill levels are available in the construction technology program at SSC. Skills certificates in rough carpentry, residential roofing and more can take anywhere from 9 credits to 32 credits to complete, and the construction carpenter diploma features a four-semester study plan that covers light frame construction, surveying and special concepts in construction.
Average In-state Tuition
$4,455
% of Students in Distance Education
25%
Walla Walla Community College posted one of the best retention rates on our list, suggesting that students tend to stick with their training programs past their first year, and its 2018-19 graduation rate was near the 75th percentile nationally. Roughly 3,800 students attend classes here each semester, and the student faculty ratio is a comfortable 16:1.
Carpentry programs at WWCC: The Associate of Applied Sciences (A.A.S.) degree in residential construction at WWCC features a valuable hands-on training opportunity. Each year, students and faculty in the program collaborate to build a new residential home, giving students real-world experience in each step of the construction process. What's more, after the first year of the program, students are eligible to receive a residential construction certificate.
Average In-state Tuition
$1,104
% of Students in Distance Education
43%
San Juan College began as a small branch campus of New Mexico State University, serving just 25 students in its first year, but it's grown into one of New Mexico's largest institutions of higher education and today operates two campuses and an education center in the Farmington area. Despite welcoming nearly 6,700 learners each semester, SJC manages to keep the student-faculty ratio to an agreeable 15:1.
Carpentry programs at SJC: Students looking to study carpentry specifically can enroll in the finish carpentry certificate program, which covers blueprint reading, cost estimating, green building concepts, flooring installation and more. Carpenters who want to get a broader education in residential construction can earn an A.A.S. in building trades that takes 65-69 credits to complete.
Average In-state Tuition
$4,920
% of Students in Distance Education
54%
The flexibility and student success categories both produced high marks for Southwestern Community College, where the student body of fewer than 2,200 learners encourages a close-knit learning environment. The retention and graduation rates at this Iowa institution both ranked in the top three among schools that made our list, and more than 54 percent of students here took some or all of their courses in the online learning environment.
Carpentry programs at SWCC: The three study plans in carpentry at SWCC share a common curriculum. One semester in the program leads to a certificate in carpentry and building trades, while those who successfully complete a full year qualify for a diploma. The A.A.S. plan takes two years of full-time study and includes an internship section.
Skills and Qualities for Carpenters
Surveys done by the Occupational Information Network (O*NET) show that a majority of professional carpenters tend to have a certain set of skills and abilities in common. Here's a short list of the qualities you can cultivate to improve your chances of success on the job market:
Coordination. The ability to adjust your actions in relation to the actions of others can help you be a valuable member of any work crew.
Active listening. Being able to quickly understand the instructions of the site manager can make your job easier.
Manual dexterity. Quick and steady hands are necessary when working with a wide variety of tools and measuring and cutting with precision.
Trunk strength. Lifting and carrying moderate loads is often a part of the job, so a strong back and abdominal core can be a big help.
Career Outlook and Salary for Carpenters
Knowing how much carpenters usually make can give some important context to your job search. Check out the figures below for the national average carpenter salary and a breakdown of job growth numbers as reported by the U.S. Bureau of Labor Statistics:
| Career | Total Employment | Annual Mean Wage | Projected Job Growth Rate |
| --- | --- | --- | --- |
| Carpenters | 718,730 | $51,120 | 8.5% |
Professional Resources for Carpenters
Membership in a professional association can help you connect with other workers and contractors in your field, as well as providing a range of other professional benefits. Here are a few organizations you can check out:
The United Brotherhood of Carpenters and Joiners of America (UBC) is one of the largest trade unions in the U.S. and has worked to represent the interests of carpenters for more than 135 years.
Indiana Kentucky Ohio Regional Council of Carpenters (IKORCC) offers apprenticeship opportunities and pathways to a variety of trade careers for carpenters in its region.
The Southwest Regional Council of Carpenters (SWRCC) advocates for the interests of carpenters in six western states and provides state-of-the-art training to members.
Article Sources
Methodology
Using the National Center for Education Statistics' Integrated Postsecondary Education Data System (IPEDS) and the U.S. Department of Education's College Scorecard, we generated a list of schools that met the following criteria:
Institution type is less than 2 years, greater than 2 & less than 4 years
Accredited by at least 1 agency (institutional accreditation)
The school falls under one of the following classifications: (Carnegie Classification 2015: Undergraduate Instructional Program)

Associate's Colleges: Mixed Transfer/Vocational & Technical

These institutions awarded associate's degrees but no bachelor's degrees with 30-49% of awards (degrees and certificates) in career & technical programs.

Associate's Colleges: High Vocational & Technical

These institutions awarded associate's degrees but no bachelor's degrees with more than 50% of awards (degrees and certificates) in career & technical programs.

Special Focus: Two-Year Institution

These institutions awarded associate's degrees but no bachelor's degrees with typically more than 75% of awards in a single career & technical program
The school must offer at least 1 program for the subject in question
We ranked the resulting colleges on the following variables:
Cost of attendance, based on the average net price for students receiving scholarship and grant aid, and the total cost of tuition, fees, books and supplies, National Center for Education Statistics, 2016-17
No. of Associate degree and undergraduate Certificate programs offered for the subject (relevant CIP codes), National Center for Education Statistics, 2016-17
No. of Associate degree and undergraduate Certificates conferred for the subject (relevant CIP codes), National Center for Education Statistics, 2016-17
Percent of undergraduate students enrolled in any distance education classes, National Center for Education Statistics, 2017
Full-time student retention rate & part-time retention rate (if full-time retention rate is not available, then use part-time retention rate), National Center for Education Statistics, Fall 2017
The graduation rate in 150% time, National Center for Education Statistics, 2017-18
Percent of students working and not enrolled 6 years after entry, College Scorecard, 2014-15
Flexibility and student services, based on whether the school offers the following services, National Center for Education Statistics, 2017-18

Academic and career counseling
Job placement services for graduates
X
Article Sources
Sources:
School pages, accessed September 9-23, 2019: Carpentry Curriculum, North Bennet Street School, https://www.nbss.edu/full-time-programs/carpentry/curriculum; Carpentry Training Program, Penn Foster Career School, https://www.pennfoster.edu/programs-and-degrees/construction-and-maintenance/carpenter-career-diploma; Carpentry Certificate, Piedmont Technical College, https://www.ptc.edu/academics/degrees-diplomas-certificates/certificate/carpentry-certificate; Carpenter - Certificate, Pima Community College, https://pima.edu/programs-courses/credit-programs-degrees/trade-professions/building-construction/carpenter-cert.html; Carpentry Certificate, Montgomery College, https://www.montgomerycollege.edu/academics/programs/building-trades-technology/carpentry-certificate.html; Carpentry Diploma, Milwaukee Area Technical College, http://www.matc.edu/student/offerings/2019-2020/diplomas/carpentry.cfm; Carpentry Diploma Curriculum, Alexandria Technical and Community College, https://www.alextech.edu/programs/carpentry/curriculum/2019; Carpentry Diploma Program, Atlanta Technical College, https://atlantatech.edu/academics/programs/carpentry/carpentry-diploma-program/; Carpentry - Diploma, Centura College, https://centuracollege.edu/programs/carpentry-diploma/; Construction Technology AS Degree & Certificate, College of the Canyons, https://www.canyons.edu/academics/construction/program/construction-technology.php; Carpentry Apprenticeship, Lakeshore Technical College, https://gotoltc.edu/academics/apprenticeship/carpentry-apprenticeship/index.html; Carpentry Certification Program, Grand Rapids Community College, https://learning.grcc.edu/eCS/CourseListing.aspx?master_id=1414&master_version=1&course_area=CECT&course_number=183&course_subtitle=00; Carpentry Programs, Atlanta Technical College, https://atlantatech.edu/academics/programs/carpentry/; Carpentry Diploma Program, Atlanta Technical College, https://atlantatech.edu/academics/programs/carpentry/carpentry-diploma-program/; Carpentry NCCER, Atlanta Technical College, https://www.albanytech.edu/academics/areas-of-study/carlton-construction-academy/761-carpentry; Carpentry, Central Georgia Technical College, https://www.centralgatech.edu/programs-of-study/aerospace-trade-industry/carpentry/; Carpentry Technology, Thaddeus Stevens College of Technology, https://explore.stevenscollege.edu/study/carpentry-technology/; Construction Trades, Pamlico Community College, https://pamlicocc.edu/programs-construction.php; Construction Technology, Southeast Kentucky Community and Technical College, https://southeast.kctcs.edu/education-training/program-finder/construction-technology.aspx; Activities & Organizations, Somerset Community College, https://somerset.kctcs.edu/about/student-life/activities-organizations/; Construction Technology, Somerset Community College, https://somerset.kctcs.edu/education-training/program-finder/construction-technology.aspx; Plan of Study, Construction Carpenter Diploma, Somerset Community College, https://somerset.kctcs.edu/education-training/media/documents/programs/construction/diploma-construction-carpenter-fall-2012.pdf; Courses & Degrees, Walla Walla Community College, https://dept.wwcc.edu/carpentry/courses-degrees/; Department Overview, Carpentry, Walla Walla Community College, https://dept.wwcc.edu/carpentry/department-overview/; About, San Juan College, https://www.sanjuancollege.edu/about-san-juan-college/; Campuses, San Juan College, https://www.sanjuancollege.edu/campuses/; Building Trades, San Juan College, https://www.sanjuancollege.edu/energy-manufacturing-and-transportation/buildingtrades/; Program: Building Trades - Finish Carpentry Certificate, San Juan College, https://catalog.sanjuancollege.edu/preview_program.php?catoid=10&poid=1588&returnto=453; Program: Building Trades, A.A.S., San Juan College, https://catalog.sanjuancollege.edu/preview_program.php?catoid=10&poid=1587; Carpentry and Building Trades, Southwestern Community College, https://www.swcciowa.edu/academics/areas-of-study/carpentry; Graduation Requirements, Carpentry & Building Trades Certificate, Diploma or A.A.S. Degree, Southwestern Community College, https://www.swcciowa.edu/downloads/Academics/Carpentry%20and%20Building%20Trades/Carpentry_and_Building_Trades_Degree_Sheet.pdf;
What NCCER Certification Is and Why It Is Critical For The Industrial Workforce, STI Group, January 7, 2014, accessed September 16, 2019, https://setxind.com/fabrication/what-is-nccer-certification/
Carpentry, Craft Details, National Council for Construction Education and Research, accessed September 16, 2019, http://www.nccer.org/workforce-development-programs/disciplines/craft-details/carpentry
College Navigator, National Center for Education Statistics, U.S. Department of Education, accessed September 16, 2019: Central Georgia Technical College, https://nces.ed.gov/collegenavigator/?id=483045; Pamlico Community College, https://nces.ed.gov/collegenavigator/?id=199263; Southeast Kentucky Community and Technical College, https://nces.ed.gov/collegenavigator/?id=157739; Somerset Community College, https://nces.ed.gov/collegenavigator/?id=157711; Walla Walla Community College, https://nces.ed.gov/collegenavigator/?id=236887; Southwestern Community College, https://nces.ed.gov/collegenavigator/?id=154396; San Juan College, https://nces.ed.gov/collegenavigator/?id=188100;
Carpenters, Occupational Outlook Handbook, Bureau of Labor Statistics, U.S. Department of Labor, accessed September 9-16, 2019, https://www.bls.gov/ooh/construction-and-extraction/carpenters.htm
Construction Carpenters, Occupational Information Network, accessed September 16, 2019, https://www.onetonline.org/link/summary/47-2031.01
Professional association pages, accessed September 16, 2019: About UBC, United Brotherhood of Carpenters and Joiners of America, https://www.carpenters.org/about-ubc/; FAQs, Indiana Kentucky Ohio Regional Council of Carpenters, https://www.ikorcc.com/faqs/; About Us, Southwest Regional Council of Carpenters, https://www.swcarpenters.org/about-swcarpenters/; Local Unions and Offices, Southwest Regional Council of Carpenters, https://www.swcarpenters.org/local-unions-srcc-offices/;
X