Table of Contents
Graphic designers often work at companies that provide design, publishing or advertising services, but they may be employed at any corporation that makes use of in-house design specialists.
Whatever the environment, many graphic designing careers are flexible -- the U.S. Department of Labor's Bureau of Labor Statistics (BLS) reports that around 18 percent of graphic designers were self-employed, with around the same number working at dedicated advertising and design firms.
Read on to find out how to become a graphic designer and what you can expect from campus-based and online graphic design schools.
"Graphic Designing will challenge you by both pulling at your creative side of the brain to craft original work and digging into the logical side of your brain to make sure you fit the required content into your layouts proportionally and strategically." Read the full interview with Kyle Christensen from Red Branch Media
What Does a Graphic Designer Do?
Graphic designers, sometimes called communications designers, work with images and text to convey visual messages in print and digital media. Using computer software tools, pen-and-paper illustration, visual composition and other skills taught in graphic design schools, designers select, edit and lay out the design elements in magazines, posters, brochures, Web pages and video content.
Here's a quick list of specific duties typically performed by graphic designers on the job:
Meeting with clients or management to determine the scope and goals of a project
Using digital and analog graphics tools to create appropriate visual elements
Designing layouts and selecting typefaces that fit the desired message
Collaborating with clients or management to make changes to the first draft
Some graphic designers work alone, while others may work together with copywriters, animators, Web developers or other members of a communication design project team.
Graphic Designer Specializations
Although there are few formalized specializations in graphic design, your particular skillset may be more conducive to certain aspects of the field than others. If you're also proficient in computer languages, for instance, you may market yourself as a Web designer, interactive designer or user experience (UX) designer.
Alternatively, if you're knowledgeable and passionate about science, education or another particular subject, you might succeed as a graphic design specialist in your subject area.
How to Become a Graphic Designer
Becoming a graphic designer requires creative abilities, digital know-how, and the ability to communicate your ideas to others. Here are a few steps to take if you're hoping to pursue a career in the graphic design field:
Earn High School Diploma or Equivalent: Many vocational and college graphic design programs require students to have a diploma, GED or other equivalency certificate to enroll, and employers may also require them for graphic design jobs.
Enroll in a college program: According to the BLS, a bachelor's degree in graphic design or a related discipline is typically required to kick off your career. Some employers may only require an associate degree or equivalent level of training, so there may be entry-level graphic design jobs open to you while you finish the last few semesters of your degree.
Have a portfolio: As you work your way through school, keep your best graphic design work in a portfolio. Whether it's full of physical pieces, digital pieces or both, your portfolio can speak volumes about your creativity, vision, and abilities, as well as serving as a testament of your capabilities when talking to a potential employer.
Some typical courses in graphic design certificate programs and degree plans might be:
Form and color
Digital imagery
Interactive media
Design and communication
Art history
Typography
Brand development
Desktop publishing
Graphic Design Degree and Certificate Programs
When seeking training in graphic design, trade school and community college programs are likely to differ from those offered at four-year universities. Here's a list of the most common types of graphic design programs commonly available in four semesters or less:
Vocational certificate. Students typically study the basics of illustration, graphic design, Adobe creative software, color theory and typography
Undergraduate certificate. These tend to cover a similar range of courses to vocational certificates but are designed for students who already hold a bachelor's degree in another discipline
Associate degree. Associate-level graphic design programs typically take two years of full-time study and include a core of general education courses along with the subject-specific study covered in certificate plans, often adding training in art history, packaging design, portfolio development and advanced studio art
Coursework for bachelor's degree programs in graphic design tends to resemble the associate degree model, with additional electives and deeper exploration of essential concepts. Master's degrees in the field are rare, but they can be found at certain graphic design schools.
Online Graphic Design Degree Programs
Online graphic design programs are fairly common, especially for students pursuing web-based, interactive or generally digital avenues in the discipline. Students attending graphic design schools online can typically complete assignments on their own schedule, provided they adhere to any due dates or online session attendance requirements on the course calendar.
If you're thinking about taking advantage of graphic design schools' online programs, it can be helpful to ask a program representative about the specific approach to distance education that you can expect. Knowing how to best budget your time for the independent study typically required in the virtual classroom can make all the difference once the pressure's on.
Hands-On Training for Graphic Designers
Some graphic design degree and certificate programs include an internship section for students nearing the completion of their study plan. These internships typically take place at a sponsoring organization with offices in the area around your college, but some might be working directly for your school.
An graphic design internship can potentially give you a leg up on other candidates after graduation. Internship experience can reduce the culture shock of leaving school for the working world, and employers may accept internship time in place of work experience for some positions.
Graphic Design Certifications
Most graphic design jobs don't require candidates to have specific certifications, but earning them can give you next-level skills and may make you more attractive to potential employers. These credentials are typically available through specific software vendors or industry groups and usually consist of a single certification exam.
Here's are some graphic design certifications that might help your graphic design career:
Software giant Adobe offers certification courses on most of the flagship products of its suite of creative tools, including Photoshop, Illustrator, InDesign and Dreamweaver
Autodesk, leading manufacturer of 3D design software, offers certification courses in its Maya and 3ds MAX products
CIW is a vendor-neutral certification provider that offers credentialing exams in Web design, Web development and mobile device design
Career Advancement for Graphic Designers
The typical graphic design career path involves earning roles in more and more prestigious graphic design jobs until you've cemented your position as a senior designer whose work is widely understood as valuable by reputation. Other positions in the field are available as well, however; particularly for those with management experience or a knack for organizing large projects.
Head designer, chief designer and design lead are all potential titles for experienced artists with years of graphic design jobs under their belts.
Designers who work in advertising and marketing organizations may have the opportunity to become art directors.
Those who wish to be a part of bringing up the next generation of designers can go back to school and earn the additional degree necessary to work as postsecondary teachers in graphic design degree or certificate programs.
Skills and Abilities for Graphic Designers
Certain skills and characteristics may be especially valuable in positions that fit the graphic designer job description. Here's a quick breakdown of some top graphic design skills, according to the Occupational Information Network (O*NET):
Critical thinking
Social perceptiveness
Time management
Originality
Fluency of ideas
Information ordering
Close-range vision
Graphic Designer Salary and Career Outlook
It's a simple question -- How much do graphic designers make? -- but the answer can be complicated. There are a number of variables that may impact how much a graphic designer can earn over the course of their career. Your amount of professional experience can matter quite a bit, as well as the scope of your education and the industry in which you're employed. Here's an idea of a salary and job outlook you might expect in graphic design or related fields:
| Career | Total Employment | Average Salary | Projected Job Growth |
| --- | --- | --- | --- |
| Graphic Designers | 215,930 | $56,510 | 3% |
*2019 Occupational Employment Statistics and 2018-28 Employment Projections, Bureau of Labor Statistics, BLS.gov.
Professional Resources for Graphic Designers
Professional associations can be a great resource for knowledge and potentially give your career a boost. Here are a few examples of organizations you might want to check out:
Membership in any of these or other professional agencies may not require a degree in the field, but the combination of the two is likely to be more powerful than either one or the other on its own.
Expert Q&A about Graphic Design School
While most graphic designers hold at least a bachelor's degree in art or design, there are still many paths to becoming a graphic designer. To get more information about the education process for this career, we spoke with Kyle Christensen, a graphic designer for Red Branch Media, a full-service B2B marketing agency in Omaha, Nebraska.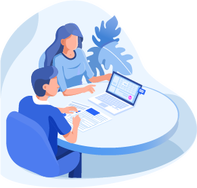 What is the typical educational path needed to enter this career?
Though it can help you get a head start or pique your interest by taking more art or design classes (if they're available) in high school, a lot of people start this educational path in college. Depending on where you want to go, you have plenty of options. You can choose to go to a community college and get an associates, you can continue after community college and finish out a bachelors degree at a university, you could get your entire bachelor's at a university, or you could go to a creative/arts college and get your associates or bachelors degree there. Another factor is to understand what each college will offer. For example, my university didn't offer a bachelors degree in graphic design, so I had to get a bachelors in studio arts with a concentration in graphic design.
How long does it typically take to complete education/degree/certification for this job?
As I mentioned earlier, it just depends on what educational path you choose to do. In my opinion, I feel like you're really credible with a bachelor's degree, though some people only get an associates, while others are self-taught (which I don't recommend, as school will teach you the principles of design, provide you with a design eye, and give you a tremendous leg up against those who choose not to go to school). If you get an associates, this will take about 2 years, while a bachelors will take about 4 years. What I would recommend is that while you're reaching the last year or two of your educational path build a portfolio, go to local design conferences and have portfolio critiques with local professionals, get involved with your local AIGA chapter and to get an internship. These added things will boost your credibility, give you a look into the daily lives of local designers, give you a higher probability of obtaining a career and will give you a better understanding of how to apply your knowledge of graphic design to real-world applications.
Why would you encourage someone to pursue this career?
Graphic design is such an amazing career because there are so many different kinds of projects and work you can do each day and each week. Depending on if you get a job at an agency or at a corporation your week could look like this: one day making a logo, the next be working on developing a website, creating a video, branding stationary, etc. The point is, your advantage to being a graphic designer is that your days will never be routine or monotonous. It will challenge you by both pulling at your creative side of the brain to craft original work and digging into the logical side of your brain to make sure you fit the required content into your layouts proportionally and strategically. In my opinion, the only disadvantage to this career is that if you're a person who needs to know what they'll be doing every day, it might be difficult to adjust since each day could look different. Also, if you're an active person, you might not like sitting at a desk for 8 hours a day.
Do you have any advice for young people who are just starting out in this career?
One of the best pieces of advice I can give you is to be open to criticism. It's something that most people feel is negative, but in fact it's just the opposite. Criticism helps to open your eyes to things you might have overlooked and gives the opportunity for other perspectives to weigh-in on your work. In the end, criticism will only help you to become a great graphic designer. Embrace it. After all, this career is all about listening and communication and the better you become at being open to criticism and revision, the better you'll be able to deliver quality work to your client that fits their needs. Finally, never expect your work to be done on the first round - even as a professional myself, there are almost always revisions. And that's okay. This job is not only about making great designs, but making your clients happy. Close collaboration and communication are your best friends.