Table of Contents
All counselors aim to help people work through challenges and make better decisions, but how they do this (and who they counsel) can vary tremendously. A school or career counselor's role is much different from that of a marriage and family therapist or mental health counselor, which is part of why counseling schools and degree programs often allow students to specialize their educations, and why professional organizations offer counseling certification programs and online knowledgebases for those already in the field.
If you're wondering how to become a counselor, you've come to the right place. We've got information on campus-based and online schools for counseling, average counselor salary figures and more. Read on below to get the real story about counseling careers and the college programs that can get you there.
What Do Counselors Do?
Even though the variety of counseling environments is vast and diverse, there are still some general responsibilities of the profession that many counselors share. Here's a quick explanation of the day-to-day duties that professional counselors perform on the job:
Providing counseling services to individuals and small groups
Encouraging clients to discuss issues that need be addressed
Suggesting strategies to help clients manage issues that emerge
Guiding clients through the appropriate processes for their needs
Counselors tend to work alone, although some counseling settings or research endeavors may require multiple counselors to work as a team. School and career counselors typically work in grade schools, high schools and colleges, while family therapists, mental health counselors and others tend to find employment in health care settings.
Counseling Specializations
Counseling is a field with quite a few specialized applications, which means that choosing a practice specialty while you're still in school for counseling can help you get on the road to career success more quickly. Here's a list of common counseling specializations, to give you an idea of what options might be out there for you:
Mental health counseling
Marriage and family therapy
School counseling
Career counseling
Substance abuse counseling
The education and licensing requirements for these professions can vary considerably. We'll cover this in more detail further down the page.
How to Become a Counselor
Becoming a counselor entails continuing your college education to its appropriate professional level, although the precise length of your time in school can depend on the specialty you choose. Here's a list of the big-picture steps that most counselors take on their way to the career world:
Finish high school or earn an equivalency degree
Enroll in an bachelor's degree program in counseling or the social sciences
Continue your education into a relevant master's program
Become licensed (if necessary) and consider earning professional certification
Optional: Complete a Doctor of Philosophy (Ph.D.) program
You can expect to focus closely on your specialty once you approach the end your educational path, but most future counselors earn their undergraduate degree in psychology or another social science. Here's a short list of subjects you're likely to study during your undergraduate work:
Theories of personality
Human development
Psychological inquiry
Abnormal psychology
Counseling theory and practice
Ethics and professional responsibility
Probability and statistics
Research methods
Counseling Degree and Certificate Programs
Whether you're looking at family therapy programs, mental health counseling programs or other study plans in the field, it pays to know what type of education is preferred or required by employers in your chosen specialty. Here is a breakdown of some of common degree levels and the professions that make use of them.
Postsecondary Certificates Postsecondary certificates are the most basic counseling credential available. They vary in length and breadth, but usually require less than two years of study. In many states, substance abuse counselors complete postsecondary certificates before entering the field.
Associate Degrees Associate degrees are more thorough than postsecondary certificates, usually requiring at least two years of study and including several general education credits. As with postsecondary certificates, associate degrees are a popular option for substance abuse counselors who do not intend to work in private practice.
Bachelor's Degrees Students in school for counseling typically use bachelor's degrees as stepping stones to more advanced programs. Mental health counselors, school counselors and marriage and family counselors must earn master's degrees before they can enter the field, and many master's level programs require applicants to have a bachelor's degree in a relevant field before they can qualify for admission.
Master's Degrees As noted above, master's degrees are an entry-level requirement for many counselors, including mental health counselors, marriage and family therapists and school and career counselors, as well as substance abuse counselors who wish to work in private practice.
Some counselors even go on to earn a Ph.D. or other doctoral degree, but doctoral study is not typically required for counseling work. If you hope to teach at the university level, or if you're hoping to make a career shift into counseling psychology, a doctorate may be necessary.
Hands-On Training at Counseling Schools
An internship period may be a part of your master's program in counseling, particularly if your career goal is to provide direct-contact therapy to clients. Internships can give you invaluable experience applying your counseling skills in a supervised environment, and they may last as long as two full semesters of your upper-division schedule.
Online Counseling Courses and Programs
The subject matter covered in most counseling programs can be translated fairly well into the virtual classroom environment, so busy students looking for some additional flexibility in scheduling can look into programs at online schools for counseling. Online counseling programs typically follow the same curriculum as those taught in traditional classrooms and provide several channels of communication between you, your professors and your fellow students.
Online education is sometimes misunderstood as an easy way to earn your degree, but that couldn't be further from the truth. It takes an extra measure of internal motivation and self-supervision to complete an online program — make sure to meet with an advisor and discuss what's expected of online students before signing up.
Counseling Certifications and Licensure
Mental health counselors, marriage and family therapists and public school counselors are required to be licensed to practice, as are substance abuse counselors who intend to work in private practice. Certification and licensure requirements can vary quite a bit from state to state, but they usually entail meeting a minimum educational standard, completing a certain number of clinical hours in the field and passing a state-recognized exam.
The BLS notes that employers also increasingly prefer to hire licensed career counselors, though it's not usually a requirement for employment in that specialty. Those who would have trouble getting to a college campus or other learning site may be able to find counseling certification programs online. For information about the certification or licensing requirements in your state, browse to the site of your state regulatory board.
Career Advancement Options for Counselors
Privately practicing counselors don't typically have a corporate ladder to climb, but there are still a few ways for you to increase your annual earnings once you've been on the job for some time. Taking on more clients, for example, can bring in more income, as well as working under contract for an organization or teaching counseling basics at a community college in your time away from the office.
Professional counselors can also write books, blogs or media columns to earn extra money or increase their profile. On top of all that, those interested in becoming professional scholars or researchers can go back to school for a Ph.D. and become full-fledged psychologists.
Source: Integrated Postsecondary Education Data System (IPEDS) 2018-19, National Center for Education Statistics, http://nces.ed.gov/ipeds/
Program Costs and Financial Aid
Patricia Collins Amaral Memorial Fund
Criteria :
Applicant must be a senior who has a minimum 3.0 GPA and who has demonstrated the finest qualities of leadership through participation in campus organizations ...
15-Feb
Application deadline
Source: Scholarship directory data is copyrighted material which is reproduced on this website by permission of CollegeXpress, a division of Carnegie Dartlet. Copyright © 2023 by CollegeXpress.
Skills and Abilities for Counselors
Counseling is a rewarding profession, but it can also be demanding. The Occupational Information Network (O*NET) compiles a list of the skills, abilities and personality traits common among successful professional counselors — here are a few entries from that list:
Social perceptiveness can give you a good idea of how your clients may be feeling about a given subject being discussed
Active listening — the ability to give your full attention to what other people are saying — is a must for anyone considering a counseling career
Oral expression skills can help you say the right thing at the right time to move the session forward in a constructive way
Service orientation, or the natural tendency to seek out ways to help people, can lead to an increased feeling of job satisfaction for counselors
Inductive reasoning provides a framework for forming helpful conclusions from the individual pieces of information presented by clients
Counselor Salary and Career Outlook
It's a question that comes to the minds of counseling students everywhere, at one point or another: how much do counselors make? It's a tricky question to answer, unfortunately — factors such as geography, experience, supplemental education and more can all have an influence on your earnings and career outlook.
There are some general trends on the national level, however. The following list of counseling careers, along with their BLS-reported national median salaries, can help provide some baseline perspective:
| Career | Total Employment | Average Salary | Projected Job Growth |
| --- | --- | --- | --- |
| Clinical, Counseling, and School Psychologists | 113,270 | $87,450 | 14.7% |
*2019 Occupational Employment Statistics and 2018-28 Employment Projections, Bureau of Labor Statistics, BLS.gov.
Professional Resources for Counselors
Counselors of all types are fortunate that several professional organizations exist to help further the aims of their profession and keep them connected to resources that can enhance their knowledge and practice. Here's a quick rundown of a few such groups on the national scale:
Expert Q&A on Counseling Schools
To gain more insight about what it takes to become a counselor, we spoke with Aida Vazin, MA, LMFT, a marriage and family therapist in Newport Beach, California.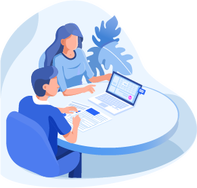 What is the typical educational path needed to enter this career?
The minimum would be a master's degree. The most common route for a career in psychology includes a bachelor's in psychology, however you are not limited to this major. You may have a degree in sociology, human development, and other related social science degrees. After that, one continues with either a master's in social work, marriage and family therapy, licensed professional counselor or a doctorate degree in psychology
How long does it typically take to complete education/degree/certification for this job?
Most graduate programs require a bachelor's and/or specific courses as prerequisites. Let's say that is 4 years, then a master's degree would be 60 units, typically 2 years to complete. The hours required for licensing include a minimum of 3,000 hours and also a minimum of 2 years. One can start the hours after 12 units have been completed in graduate school, so one can be complete with their hours as early as 1 year after graduation. From there, the board must grant approval to take the board exams which include 2 separate tests. This process takes anywhere from 6 to 12 months to fully complete, depending on how fast the board grants approval and how good your study skills are.
Why would you encourage someone to pursue this career? What are the advantages and disadvantages?
Well, if it feels right, and you are enthused about this profession, then by far please pursue it. It's a stable career, there are so many opportunities and so many jobs available that do not include just talk therapy. I'm a big fan of following a career path that brings you joy; if this brings you joy then this is the path for you. Some advantages include a lot of self discovery and personal growth. It brings more patience and understand in one's lives. The disadvantage is that you will be working with heavy experiences and really need to be emotionally balanced and strong to be able to continue in this profession.
Do you have any advice for young people who are just starting out in this career?
Yes, please please please, do yourself and your future clients a HUGE favor and receive therapy for at least 1 year to see what the experience is like, to work through your own stuff and to really know if this is the right path for you. It will be most beneficial when you are completing your 3,000 hours and will be triggered by a lot of stuff from your clients.