Billed as the Entertainment Capital of the World, Las Vegas is definitely a unique place to call home. But it's not all famous casinos and bustling nightlife -- the area actually has a slightly lower cost of living than the national average, especially in terms of utilities and housing. People who prefer an urban feel will love Las Vegas, where over 613,000 people reside in an area of only 135 square miles. That means that much of the city is walkable, but for those who want something a little easier, public transportation in the area is exceptional.
And when it comes to education, Las Vegas is serious about attracting new students to the area. There are numerous technical, vocational and career schools in Las Vegas, and more are popping up all the time. For example, in 2015 Las Vegas was awarded a $1.25 million federal grant for the building of a new vocational school that caters to cosmetology and barber training. High schools in the Clark County area are pushing the advantages of Las Vegas vocational schools, which offer an opportunity for students to earn advanced training or a degree and move directly into the workforce with a specialized skillset.
Expert Advice on Las Vegas vocational education with Robert Richardson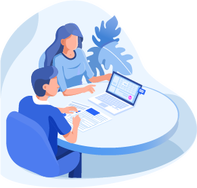 To learn more about the Las Vegas area, including the economy and what students can expect, we spoke with a local business owner who knows the area. Robert Richardson is the owner of Richardson Graphics, a high impact marketing company in Las Vegas. He also runs the website Networkinvegas.com.
Which Las Vegas industries are seeing the most job growth?
Over the last couple of years Las Vegas has really bounced back from the economic crisis of 2008. In fact, Nevada is the second-fastest growing state in the U.S., and most of that growth is being seen right here in the Las Vegas area.
Right now, Las Vegas is seeing a huge influx of tech related jobs; especially in green energy and the drone industry. Last year, Nevada was one of only six states to receive a two-year certificate of authorization from the FAA to test drone technologies in the state. That has brought companies from around the globe into Nevada, hoping to jump into this virgin market.
Which jobs look most promising for vocational graduates in Las Vegas?
Construction, tradeshows, and tourism are the three driving forces in the Las Vegas economy, and are responsible for much of the growth. There is $9 billion in new building projects and renovations planned over the next three years.
While those three sectors will remain on top for quite some time, and are always a good bet for future graduates, Las Vegas is also seeing a big jump in the number of healthcare jobs and manufacturing related positions. Las Vegas has always been a bit weak when it comes to healthcare, but there has been a major push to bring in more healthcare related jobs and training.
I would also advise anyone who has an interest in green energy, specifically solar, to look into going to school in Las Vegas. It's one of the fastest growing industries in the country, and Nevada is ground zero for these companies.
How does the atmosphere look for homeownership in Las Vegas?
Las Vegas is still one of the best places to buy a home in the country. Prices are still relatively low, with the median family home selling for right around $220,000.
But Las Vegas isn't entirely trouble-free. There are still a lot of underwater homeowners, a problem that is still with us from the market crash in late 2008. There are still a lot of short sales and foreclosures on the market, but that could be a great opportunity for new buyers.
Why is Las Vegas an attractive option for students?
Las Vegas area colleges, when compared to the rest of the nation, are pretty reasonably priced. For instance, the cost of attending UNLV for a nonresident is $6,955 per semester. Some other benefits of attending school in Las Vegas include our great weather, a relatively low cost of living, year round outdoor activities, good transportation infrastructure, and a city that always has something happening 24/7.
Why would a student choose to stay in Las Vegas after graduation?
Las Vegas is still a growing city, with a lot of future opportunities to be had. Although we are considered a big city, it's still relatively small when compared to most metro areas. It's an easy place to make connections, and once out of school you can use those connections to quickly get ahead.
Keep in mind, Las Vegas isn't all about the Las Vegas Strip - even though that's what most people think of when they picture our city. We are a very diverse community with thousands of things to do that extend far beyond the glitz and glamour associated with the Las Vegas Strip. We have some of the best national parks and outdoor recreation areas in the country, and there is always something new to do here, or within a couple hours' drive of the city.
Learn More About Las Vegas
| | | |
| --- | --- | --- |
| Demographics | Total Population | 621,662 |
Education and Earnings

# Enrolled in College
27,354
Median Earnings Without High School Degree
$25,014
Median Earnings With High School Degree
$30,481
Median Earnings With Associate Degree
$35,236
Commute

Average Commute Time
25 minutes
% Commutes by Walking
1.6%
% Commutes by Bicycle
0.4%
% Commutes by Public Transportation
4.2%
Housing

Median Housing Cost
$1,074
Median Gross Rent
$1,024
Median House Value
$209,700